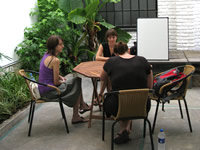 Successfully implementing the interactive method totally depends on the personal attention your Spanish teacher is able to give you. Therefore, our groups are small and all courses are (super) intensive. The make-up of the group is determined according to the students' abilities; the first day of our
Spanish program
begins with an oral and written placement test.
There are four Spanish levels (with consequent sublevels), in accordance with the curriculum of the Instituto Cervantes and their equivalents in the Council of Europe. Each level takes between five and eight weeks to complete in full.
Beginners (A1+A2)
For those without any knowledge of the Spanish Language. Upon completion, the student will be able to formulate and understand short sentences relating to basic necessities and forms of politeness.
Intermediate (B1)
This course will bring the student to a higher level of comprehension and expression. The students will be able to express themselves, perhaps sometimes with a little difficulty, but usually spontaneously and independently, in everyday situations.

This level includes a revision of basic structures and an extension of Spanish grammatical structures (past tenses).
Advanced (B2)
The student will have advanced communication ability, even in complicated situations. The student will work extensively on past tenses and will be introduced to the subjunctive.
Superior (C1+C2)
Clearing up minor imperfections. Refining pronunciation and intonation. The student will communicate, without difficulty, with people who are native Spanish speakers. Errors and deficiencies in spansh grammar that still exist will be corrected.