Our medical Spanish course in Buenos Aires
is especially designed for
doctors
,
nurses
,
social workers
, etc. The course focuses on Spanish medical terminology and information on how to improve communication with Spanish speaking patients.
Special attention will be given to cultural differences between the western world and
Latin America
including information on subjects such as health, illness, family issues, etc. and how they are dealt with by the Latin Community.
Visits to hospitals and lectures on subjects as
Traditional Medicine
etc., are included.
Six hours per day: four hours of Spanish in the morning and two hours of lectures / visits in the afternoon. There are fixed starting dates (see pricelist) and a high-beginners level is a requirement.
Maximum number of students: 6 in the Spanish Course, 10 in the afternoon Program.
Two weeks.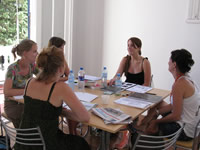 This program is tailored for people who need to
learn Spanish quickly
, mainly for employment reasons. The total immersion model leads to guaranteed success in a short period of time.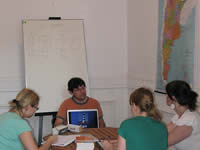 Spanish course
for 55. City tour in
Buenos Aires
. Young people have different ways of learning, different ways of spending there spare time and different interests than older people. That´s why OUR SCHOOL is proud to present our 55+ program, specifically tailored to needs and interests of elders, offered during the best seasons....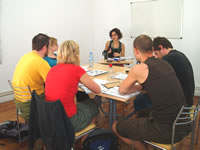 If you are planning to relocate to Argentina – either temporarily or for good - , learning Spanish is a must in order to get the most out of your experience. The real world – full of Porteños ;-) - is right outside your door and by speaking just a bit more of Spanish you will quickly find life is so much more exciting!.....