Do you want to see the best of Argentina, while having a true cultural experience while developing your knowledge of the Spanish Language and that of your children?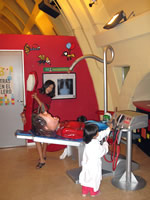 Our Spanish school organizes a Spanish for Family program that is designed so that everyone in the family has a fantastic time on holiday in Argentina, in "the city of the cities", Buenos Aires, full of interesting activities and places to visit for all ages! As every family is different, this program is custom designed.
A sample program might see the whole family going on outings, or visiting museums and other interesting sites in the morning. Some example include the famous Kids Museum in El Albasto (Museo de los Ninos), or the "Museo de los Titeres" in San Telmo, the zoo in Palermo, one of the many, many green parques in
Buenos Aires
or the famous theatre the Opera, suitable for all ages. And, what about a TANGO DANCING WORKSHOP for the whole (or part of the) family??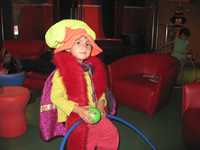 In the afternoon, mom and dad would have
Spanish classes
at their level while the children will have their own Spanish teacher and a specially designed kid's class. This class is bright, interesting and colorful and children study from a range of fun materials including videos, music and children's books in Spanish. There are also several activities out of the classroom included in this program, e.g. visiting a nearby local market, or a handcraft shop. This class is totally adapted to the age range of your children and is suitable for children 6 through to 17, though probably not in the same class. If you have children under 5, they can be cared for during the afternoons by a professional nanny; if you want to stay for a longer period of time in Buenos Aires we can also help you to register your kids on a local or international school in Buenos Aires.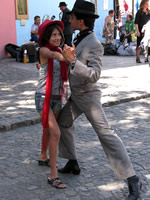 We also offer the option to include including some
cultural workshops
in your program. Our school organizes not only tango dance classes but also painting, theatre, music and others. Most families also include
volunteer work
for all or some family members: you can help and assist in an orphanage, where the kids are happy with your visit and care.
During the weekend the school can help you organizing your activities for the whole family, such as a trip to the lovely village of Tigre, to the zoo of Lujan, to visit the parque 3 de Febrero en Palermo, or one of the many trendy cafes, some of which have an area where the kids can play while you can enjoy a coffee, a meal, read a book or just relax. Buenos Aires offers endless options to "breath" culture: the city is full of festivals, theatre, dance, movie or cinema.
Buenos Aires
is an interesting cultural experience for the whole family.
If you have some time left after your
Spanish program
, the rest of Argentina provides for impressive natural scenery and the kids will love some skiing, rafting, trekking, or visit the waterfalls of Iguazu, or the pinguins in Isla Valdes, just to mention a few. The options in Buenos Aires and Argentina are endless!
Participating in our SPANISH FOR FAMILIES AND SPANISH FOR KIDS program will be an absolutely unique experience, one the kids will never forget.