INFORMATION
SPANISH COURSES
SPANISH RESOURCES
ABOUT ARGENTINA
VIDEOS
OTHER RESOURCES
FAQ`S ARGENTINA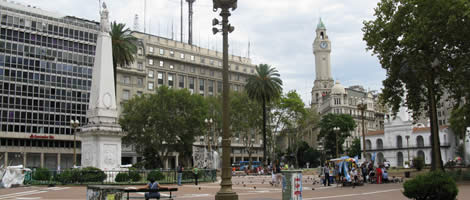 How is the political/economic situation in Argentina at the moment?
After a period of relative stability in the 1990s, Argentina has faced renewed economic turmoil as its recession deepened from 1998 to 2001. A period of intense political upheaval marked the country in late 2001 as the government resorted to desperate economic measures to turn the country around.

With its currency pegged to the U.S. dollar from 1992 to 2001, Argentina's government was able to curb inflation. On the other hand, the policy made Argentine products relatively more expensive compared to those of its neighbors, which stunted growth in its export sector. The government has also incurred a high foreign debt and has failed to implement austerity measures. At the end of 2001, the government instituted severe currency controls, including strict limits on access to private bank accounts.

Once a leading economy in the Americas, recent events in Argentina have left many wondering whether the country can reform its economy without undertaking fundamental reforms in the political realm as well.
How safe is Argentina?
Argentina is a very interesting country to travel and explore, and compared to other countries in South America, you can say that it is relatively safe, both in the big cities and in rural areas. In Buenos Aires, especially in the weekends life seems to go on here the 24 hours, and In most tourist areas police patrol quite actively on the streets.

Nevertheless, thieves and pickpockets can be everywhere, so, as in any other place, do not take unnecessary risks and use your common sense. Be aware if a stranger starts talking to you spontaneously, and leave your valuables, passports and tickets in your accommodation.
Is Argentina safe for female travellers?
Women traveling alone in Argentina will probably feel safer and more at ease than they would in other countries in Latin America. People in general, and especially men towards women, are very friendly, helpful and polite, and a bit more "open minded" than the rest of the "latinos". However, being the majority of the male population Italian or Spanish descendants, you should still be prepared for a dose of "machismo", To avoid annoying comments on the street, it is best to dress in a neutral way, and not to show any provocative behaviour.
What type of electricity is there in Argentina?
220V, 50Hz. Argentina uses the European two prong and the Australian slanted plugs on most wall electrical outlets.
What is the time in Argentina?
Eastern Standard Time (EST) plus one or two hours; last year, Argentina for the first time introduced daylight-saving time in the majority of its provinces because of energy saving purposes. However, it is not sure if the country will repeat this measure in the future, as many doubts exist regarding the effectivity.
How much money will I need during my stay?
Of course it is hard to say how much exactly you will need, and it depends a lot on what kind of trip you have planned for yourself.

One thing is true and that is that Argentina has something to offer for both budget travelers and for those who are looking for more comfort and luxury. Buenos Aires and the South are more expensive than the rest of the country.

In Buenos Aires you should count on spending a minimum of US$ 20 per day on food and accommodation. A shared room in a hostel costs approximately US$10, while you can get a decent meal with a drink for US$ 5 - 10. Internet costs approximately US$ 1 per hour, but most hotels and a lot of cafés and restaurants offer free Internet or Wi-fi. A ride on a local bus or metro costs US$0.35, and taxi's use a "taximetro", so the price depends on the distance.

A coffee in a bar costs US$ 1-2, while the entrance to a fancy club may cost between US$ 10 and US$ 30, not including drinks.

The good thing about Buenos Aires is that the access to a lot of cultural activities is very economic or even for free, like the entrance to museums, concerts and cinema.
Do I need a medical and travel insurance?
We do recommend you to take a medical and travel insurance in your home country.
Will I need vaccinations?
Argentina requires no vaccinations to enter the country. Health wise, Argentina is a relatively safe country to travel in.
Will I need a visa?
Foreigners from most countries do not need visas and receive a 90-day tourist stamp upon arrival. You can renew your tourist visa quite easily at the local immigrations office, or by crossing the border to Uruguay or Brazil.
How is the Weather in Buenos Aires?
Buenos Aires has a mild and warm climate throughout the year. The winter months are June to August, the summer months are December to February, the spring months are September to November, and the autumn months are March, April and May. Buenos Aires is ideal in spring and fall while the summer months are sometimes very hot, but usually quite pleasant.

The humidity is sometimes high during summer. Winters are not very mild, but it could be foggy and misty at night and in the mornings. Rain is a bit more common in the months of May, October and November. But no matter the time of year, Buenos Aires remains a pleasant destination year-round, with many beautiful sunny days.