INFORMATION
SPANISH COURSES
SPANISH RESOURCES
ABOUT ARGENTINA
VIDEOS
OTHER RESOURCES
SPANISH LANGUAGE SCHOOL IN ARGENTINA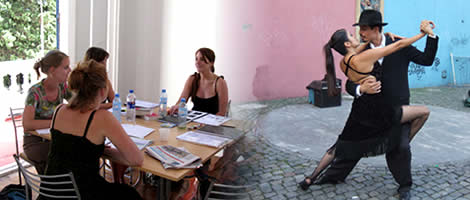 Our Spanish Language School in Argentina is situated on the border of the trendy suburbs of Palermo and Belgrano, Buenos Aires, only 10 minutes by metro from the city center. We offer Spanish lessons and Spanish immersion as well as volunteer work and excursions in one of the best locations in South America: Buenos Aires.

Learn Spanish while participating in Tango lessons, cultural workshops and the free daily Student Activities, that make our Spanish school a unique language school in the incredible city of Buenos Aires, filled with excitement and culture.

Come to Buenos Aires, take Spanish classes and participate in our volunteer program - the best way to really live Buenos Aires and learn how to speak Spanish in real life – or in our Spanish Immersion Super, Medical Spanish, Spanish for Kids, Spanish and Excursion, Spanish for Expats.
Photo Galery